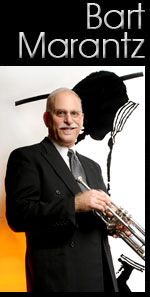 Home
B.M.P.
BTWHSPVA
Articles
Interviews
Reviews
Books
Biography
Videos
Photos
Calendar
Music
Links
Contact
Sara Marantz
Matt Marantz
Luke Marantz




Bart Marantz Plays Bach Selmer Trumpets and Flugelhorns exclusively.

Please e-mail the Artist Relations Coordinator with your inquiry at: srichards@conn-selmer.com
---
Bart Marantz NPR/KERA Jazz Education Interview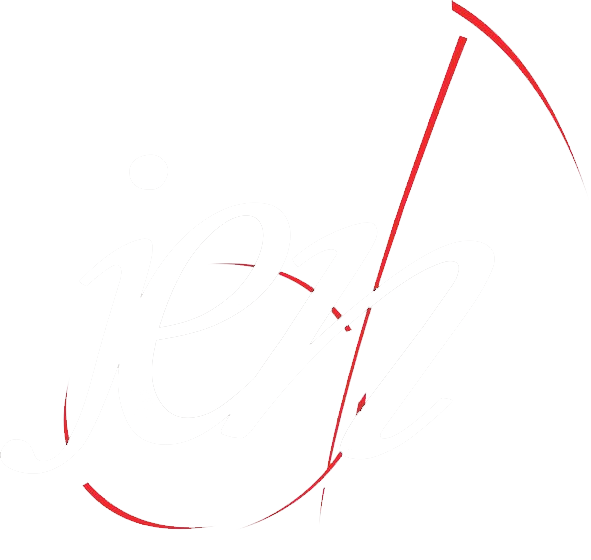 Click below to listen to the interview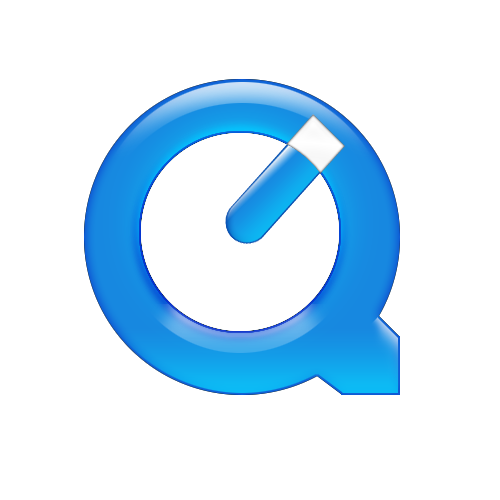 Click below to read the article


---



To see Bart's Ad in Down Beat Magazine Click Here.




To see Bart's Congratulatory Ad in Down Beat Magazine Click Here.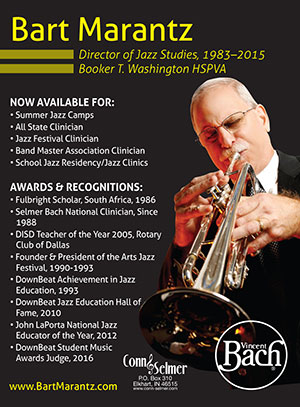 To see Bart's Ad in Down Beat Magazine Click Here.


Interviews

click here.

Maria Schneider

With the grace and assurance of a symphony conductor, 1991 Gil Evans Fellowship award-winner Maria Schneider led her concert jazz big band through a spirited reading of her debut performance of Evanessence. Commissioned to compose a work to be premiered at this year's annual International Association of Jazz Educators convention, Schneider's presentation of Evanessence placed her front and center as she whooped and swirled her arms, red hair flowing as if to accent her dramatic emphases. A smallish woman, Schneider was clearly in command, evoking images of veteran big band leader Toshiko Akiyoshi.

The connection to the late arranger/composer/ bandleader Gill Evans was obvious even before the piece was performed. As Schneider came on stage, she went directly to the mic and began to talk to her audience of jazz educators and musicians from around the world about Evanessence, her voice shaking with emotion. She told us of Gil's influence on her work, and, indeed, as the music filled the auditorium, I realized that here was much more than just a surface study of the Gil Evans sound.

Born in Windom, Minnesota in 1960, Schneider started piano lessons at the ripe old age of three. "My lessons were taught from a theory perspective, and there was always a fake book at each meeting," she recalls. "By the age of six I had to analyze every chord in my classical pieces from beginning to end. The piano was my main instrument, but writing became the emphasis."

As she listened to her parents' big band albums, she discovered inspiration for her composing and found in the music the impetus to further develop her imagination and store of musical ideas.

After high school it was on to college at the University of Minnesota where she graduated with a Theory and Composition degree in 1983. It was during that same year that Schneider entered the University of Miami, and after a full year transferred to Eastman, studying with the late Ray Write, graduating in 1985 with a Jazz and Contemporary Media Writing degree. "It was there that I met [composer] George Russell. I remember him telling us that you can't write jungles and not expect them to show in your other writing."

In the summer of '85, and with that statement in mind, it was time to make the move to New York City. Only a few months later, composer Tom Pierson had recommended her to Gil Evans to help catch up on copy work. The relationship would continue for the next three years until Gil's death in 1988.

There were other influences during this period of Schneider's career. A grant came from the National Endowment for the Arts to study with trombonist/ arranger Bob Brookmeyer, who was writing for the Mel Lewis band at the time. "This was a more technical approach to arranging and a most valuable addition to my quest to be a better writer. I was introduced to Mel and listened to the band often. Mel's drums affected me, his touch musically. The way he understated was a great influence on my writing. There were times I would write the way Mel would play it." Schneider studied with Brookmeyer from 1986 to 1991. But it was Gil who had the most powerful impact on her writing. "When I first heard Gil's music, I heard the passion of music," Schneider remembers. "I realized that this was the emotion I wanted to express in my own music. One very influential album of Gil Evans' for me was The Priestess recording that captured all of the above, and more. I stared doing transcribing and copy work for Gil in the beginning. He was the warmest, most accepting person I had ever met. He told me, 'Take in everything, discount nothing.'It was a full year before I gave him a tape of my writing by his request. A short time later I was doing some ghostwriting for him when things were on overload."

His influence was certainly evident during the performance of Evanessence. The University of Miami Concert Jazz Band played the piece with the polish of the master. But also in evidence was Schneider's own originality and maturity as a composer. As she said at the close of our interview: "You need to be honest with your art and yourself. If you are, it will come, and the honesty will show in your work."

Anyone who heard the performance of Evanessence heard this statement come alive through her writing. Maria Schneider is for real, and thanks to IAJE and the Herb Alpert Jazz Endowment Fund, there were many who were able to experience and enjoy her outstanding talent.