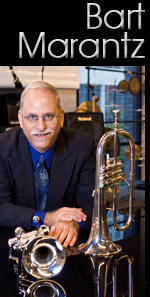 Home
B.M.P.
BTWHSPVA
Articles
Interviews
Reviews
Books
Biography
Videos
Photos
Calendar
Music
Links
Contact
Sara Marantz
Matt Marantz
Luke Marantz




Bart Marantz Plays Bach Selmer Trumpets and Flugelhorns exclusively.

Please e-mail the Artist Relations Coordinator with your inquiry at: srichards@conn-selmer.com



To see Bart's Ad in Down Beat Magazine Click Here.




To see Bart's Congratulatory Ad in Down Beat Magazine Click Here.


Booker T Washington High School for the Performing and Visual Arts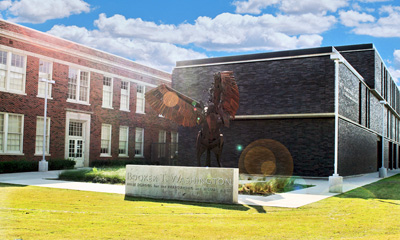 Since 1983 the music department at Booker T. Washington HSPVA has attained the following list of national and international awards and accolades:


DownBeat/Musicfest USA Invitational National Jazz Festival: 10 Awards
Monterey Invitational National Jazz Festival: Combo Winner 3 times
International Association for Jazz Education Conference: 17 Performances
8 NFAA Jazz Winners
Musicfest USA 10 National Wins
Grammy National Signature School: 5 times (2000-2011)
DownBeat Student Music Awards: 227
Grammy Awards won by Alumni: 28

Notable Music Alumni:
Erika Badu - Vocal
Matt Marantz - Sax
Norah Jones - Vocal
Luke Marantz - Piano
Michael Palma - Piano
Roy Hargrove - Trumpet
Keith Loftis - Ray Charles
Alan Emert - Brave Combo
Danny O'Brien - Brave Combo
Keith Anderson - Marcus Miller
RC Williams - Piano - Erykah Badu
Bralon Lacey - Bass - Erykah Badu
Shawn Martin Piano - Kirk Franklin
Frank LoCrasto - Piano - Pat Martino
Tim Owens - Vocal - Atlantic Records
Edie Brickell and the New Bohemians
Eric White - Drums - Reprise Records
Olivia Harris - New York Based Vocalist
Andrew Griffith - Drums - Cedar Walton
Robert 'Spud' Searight - God's Property
John Koen - Cello - Philadelphia Orchestra
Roger Roe - Oboe - Indianapolis Orchestra
Aaron Comess - Drums - The Spin Doctors
Nadia Washington - Boston Based Vocalist
Allison Wedding - New York Based Vocalist
Donessa Washington - Vocal - Kirk Whalum
Fred Sanders - Piano - Leaning House Records
Daniel Jones - Musical Director - Janet Jackson
Joe Jackson - Trombone - Leader Airmen of Note
Gabriel Sanchez - Piano - Van Cliburn Competition


School Web Page:
http://www.dallasisd.org/bookert

School Calendar Page:
http://www.dallasisd.org/Page/1599

School Showcase Page:
http://www.btwshowcase.com

School Music Guild Page:
http://www.btwmusicguild.com



2501 Flora Street
Dallas, TX 75201
phone: (972) 925-1200
fax: (972) 925-1201

Mission Statement:
To provide and receive intensive training in the Arts and Academics.



The School:
Booker T. Washington High School for the Performing and Visual Arts boasts the honor of being the first institution in the Dallas Arts District and the only school. There are no cheerleaders at BTWHSPVA. There is no football team, no basketball team, and no pep rally on Friday. The building was built in 1923 and has been declared an historical landmark. The Dallas magnet system evolved from a court order on desegregation in 1976. Dallas Independent School District met specific needs to educate gifted artists with both the potential and aspiration for careers in the arts by establishing BTWHSPVA as a school solely dedicated to this mission. Since its inception, BTWHSPVA has received national acclaim as a prototype for subsequent magnet schools throughout the United States and Canada through its membership in the Network for Performing and Visual Arts Schools. In 1994, BTWHSPVA was named a Mentor School by the Texas Education Agency and in 1995 was named a Texas Blue Ribbon School by the United States Department of Education.


Located in the Dallas Arts District near the heart of the city, the magnet school attracts students from throughout the metropolitan area. The multi-ethnic student body includes approximately 800 students in grades 9 through 12 who attend the school fulltime, enrolling in a full range of arts and academic classes. Students have been distinguished by receiving a variety of awards and honors, including Presidential Scholarships. The instructional staff consists of 54 full-time teachers and approximately 15 part-time teachers and consultants. Approximately 88% of the faculty have more than ten years of teaching experience, while over 83% have advanced degrees. Faculty distinctions include Fulbright Scholars, a Christa McAuliffe Fellow, and two National Tandy Technology Scholars, to name a few. A variety of grants and business partnerships support the program. The school is accredited by the Texas Education Agency and the Southern Association of Colleges and Schools.


BTWHSPVA was created to provide a program of excellence in the arts which meets the needs of the students and the community. BTWHSPVA is not a school for everyone, but it is the school of choice for students with special talents and the desire and commitment to develop their potential. Intensive training in the performing or visual arts allows students to explore the demands of an artistic career. A rigorous academic program offers all courses required for the state's three graduation plans, including a host of honors courses and Advanced Placement courses. Students are selected through audition, interview, portfolio, or other demonstration of artistic aptitude, and the student population reflects the ethnic enrollment of the district at large. On the average, 150 graduating seniors boast - $11 million dollars in college scholarships in both arts and academic majors.


Getting the Word Out
With volunteer services from the graphics department at J.C. Penney's in Dallas, a video and brochure advertising the Arts Magnet High School was produced in 1993. This was followed by a School Handbook distributed to parents and students which contains valuable course information about the four clusters as well as an Internet Home Page which posts calendar events. The position of Public Relations Specialist was added to the faculty in 1995. A revised information brochure was produced by students enrolled in computer graphics classes in 1999.


The Washington-Lincoln Alumni Association
WLAA has over 300 members in ten chapters throughout the nation. These members are former students from classes since 1939 who have met for twenty annual conventions and are committed to community service projects. In 1989 this group was instrumental in having Booker T. Washington High School declared a Historical Landmark.


The Arts Magnet Alumni Association
The Arts Magnet Alumni Association was founded by graduates Luis Valdespino '88, Sharon Modabberi '79, and Otis Gray '88 in January of 1995, in honor of the twentieth-year anniversary. The organization has grown quickly and already has been successful in creating a scholarship fund for promising students.


This fund was created from an alumni art show and concert held in August 1996 when more than 60 alumni from the past twenty years returned to the school to donate works of art and produce or perform in the show. Each year, four graduating seniors are awarded a scholarship from this fund for college studies. On May 4, 1997 the Advisory Board, along with business and community leaders, hosted Sundayfest, a fund raiser luncheon and concert at the Morton Meyerson Symphony Hall. On May 23-25, 1997 the Alumni Association hosted a reunion for all alumni from the classes of 1977-1997. These events included an art show, a family picnic, and a concert.


In February of 2000, three Arts magnet Alumni were granted the honor of placing their handprints along Dallas' Walk of Fame at the Lakewood Theater. Grammy winner R&B vocalist Erykah Badu, Grammy winner jazz trumpter Roy Hargrove and Visual Artist Chris Arnolds' handprints will remain on Dallas' Walk of Fame forever. This event was sponsored by AT&T and Showtime.




---




BTWHSPVA has specific purposes and goals:



To attract artistically gifted students from the Dallas community at large.
To accept an ethnically balanced student body.
To prepare students for college/ university/ professional schools or for professional career entry.
To recruit and retain a faculty of academic and arts professionals which reflect a multicultural society.
To educate the whole child by fostering the development of perception, conceptualization, sensitivity, and creativity.
To provide a general education with an emphasis on societal, civic, and ethical responsibilities.
To coordinate the content of academic classes with specialized arts curricula.
To provide for continuity and upgrading of in-depth course offerings in each art area.
To provide an educational atmosphere which is conductive to the development and nurturing of creative artistic talent.
To develop the students' abilities so that they can express their ideas clearly and specifically within their chosen art form.
To maintain a close working relationship with the Dallas Arts District and the arts community at large.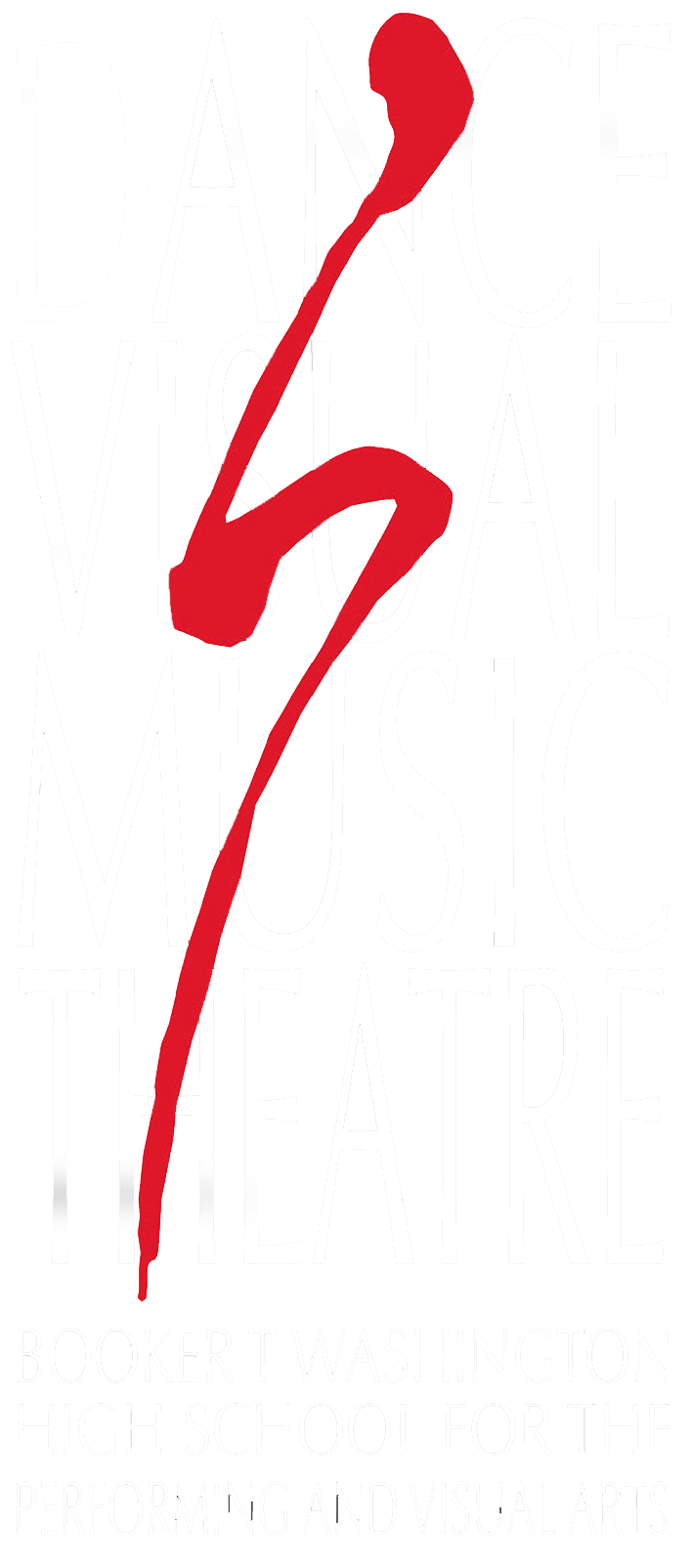 Excellence
BTWHSPVA was created to provide a program of excellence in the arts. The curriculum reflects a commitment to exemplary standards in both the arts and the academics. Since its inception, BTWHSPVA has received national acclaim as an outstanding arts high school and has served as a prototype for subsequent developing "magnet" schools.


BTWHSPVA shares with only one other school the distinction of having produced more Presidential Scholars in the Arts than any other school in the Southwestern U.S. The Presidential Scholar Award is the nation's highest award for excellence in the arts and academics.


BTWHSPVA annually outscores local, state and national scores on standardized tests. The National Foundation for Advancement in the Arts and other arts organizations recognize our students for outstanding achievement. Colleges, universities, and conservatories offer scholarships in excess of 1.5 million dollars annually. Over 85% of the graduating seniors attend college, while a select few from each discipline embark on a professional career immediately following high school graduation.


Auditions
Auditions are held on two Saturdays in the spring semester. Applications are available from the school office beginning in January. Students are admitted to the school through the audition process which includes the following criteria and permanent record documentation:


Student interest
Performance, portfolio review
Grades/test scores
Attendance
Recommendation




Recordings Produced By Bart Marantz




LP Recordings



| | |
| --- | --- |
| | |
| "Arts Jazz Milestones" 1985 LP | "Arts Jazz Dallas" 1986 LP |
| | |
| "Arts Jazz Impressions" LP 1987 | "Arts Jazz Dallas" LP 1988 |
Cassette Recordings
"Arts Jazz '90" Cassette
"Arts Jazz '91" Cassette
"Arts Jazz' 92" Cassette
CD Recordings
| | |
| --- | --- |
| | |
| "Arts Jazz Stretchin The Time!" CD 1995 | "Arts Jazz 20th Anniversary" CD 1998 |
| | |
| "Arts Jazz In The Pocket" CD 2002 | "Arts Jazz Giant Steps Forward" CD 2003 |
| | |
| "Arts Jazz I Thought About You" CD 2004 | "Arts Jazz Now's The Time" CD 2006 |
| | |
| "Arts Jazz Night & Day" CD 2007 | "Arts Jazz Tribute" CD 2009 |
CD/DVD Recordings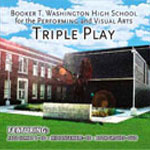 "Arts Jazz Triple Play" CD/DVD 2011